7 Best Rated Crossbows For This Year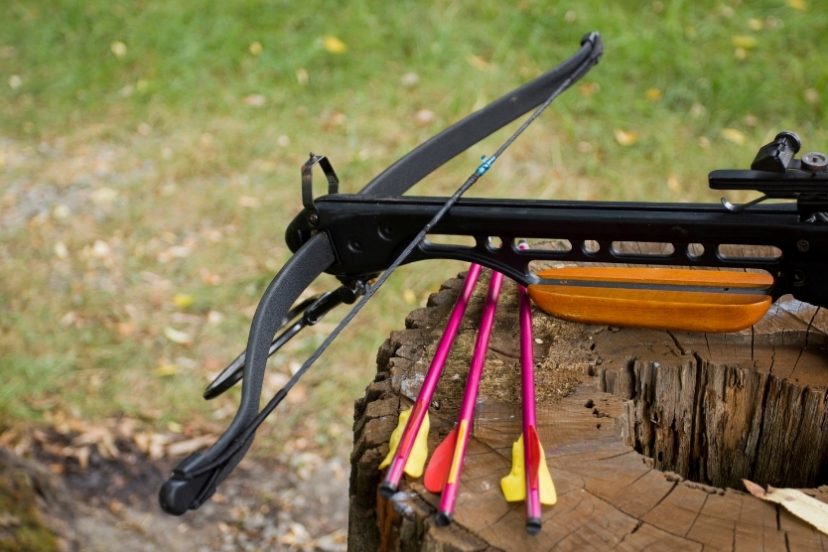 If you're in the market for a new crossbow– or your first– look no further than the crossbows on this list.
Handpicked for power, ease of use, and price, these crossbows are worthy of consideration. Read on to learn more.
1)) TenPoint Titan SS
The Titan SS by TenPoint comes with a scope, arrows, quiver, and anything else you need to shoot.
The primary feature of the Titan SS is that it comes equipped with TenPoint's AccuDraw technology, all for $760.
AccuDraw technology holds the weight of your draw, allowing this bow to be accessible to archers of any size.
The bow can support a draw weight of 175 pounds, boasts speeds up to 340 feet per second, and weighs only 6.7 pounds.
2)) Excalibur Crossbow Matrix SFX Grizzly
With a name that's synonymous in the archery community with quality, Excalibur's Matrix SFX Grizzly does not disappoint.
This durable, 5.5-pound bow can sustain a draw weight of up to 200 pounds, and it comes in mossy oak camouflage– perfect for bowhunting.
The Matrix SFX Grizzly is a durable midrange crossbow with a price tag of $550.
3)) Barnett 78134 Recruit Tactical Compound Crossbow
The Barnette Recruit Tactical Compound Crossbow comes mostly ready to go, with minimal assembly required– so if you're anxious to get out there shooting, this may be the bow for you.
At $300, this bow is in the budget-friendly price range.
It allows for a draw weight of 125 pounds and shoots at an impressive 330 feet per second.
4)) CenterPoint Sniper 370
Beginners take note, the CenterPoint Sniper 370 puts affordability and quality at your fingertips.
With important safety features such as an anti-dry fire trigger and automatic safety, this $225 bow comes with features you would expect at a much higher price range.
With a 185-pound draw weight and speeds of up to 370 feet per second, the Sniper 370 packs all the power you need into a compact and affordable package.
5)) SA Sports Empire Beowulf
If you're looking for a bow that comes ready-to-shoot with all the bells and whistles, consider SA Sports' Empire Beowulf crossbow.
The kit comes with a quiver, scope, rope cocking device, and carbon arrows. For just $400, you'll be shooting in no time.
And with a 175-pound draw weight, you aren't sacrificing power for price.
6)) Bear Archery Fisix FFL
For just under $1,000, Bear Archery's Fisix FFL crossbow is the perfect choice for intermediate and expert bowhunters who already know they like the feel of a crossbow.
Featuring a draw weight of 135 pounds and shooting speeds of up to 375 feet per second, the Fisix FFL is a fast and efficient hunting machine.
7)) Ravin Crossbow R15 Predator
Archers who are focused on speed will love the Ravin Crossbow R15 Predator. Capable of speeds up to 425 feet per second with a 160-pound draw weight, other bows can't come close to the speed or efficiency of the R15 Predator. With a price tag of $1,700, this crossbow is geared towards seasoned crossbow hunters.
Conclusion
Choosing the right crossbow for you requires knowing what you want, knowing how much you want to spend, and a little bit of research on the models that are out there.
This list is a great place to start– these are highly rated, quality crossbows.
Pick one up today and see how it feels!